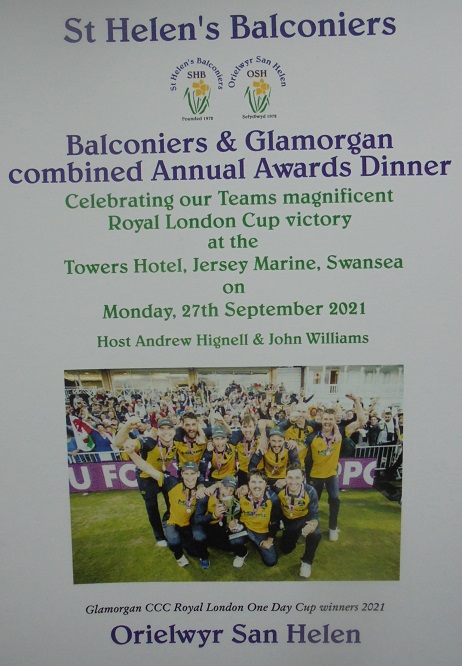 The St. Helen's Balconiers and Glamorgan CCC held a joint player awards evening at the Towers Hotel, Jersey Marine, Swansea last Monday (27th September 2021). The hosts for the evening were Andrew Hignell and John Williams.
This is the 48th time the Balconiers who are looking forward to their 50th year next year have held an annual awards night. Glamorgan CCC provided speakers [Mark Wallace – Director of Cricket and Hugh Morris – Chief Executive] and made their awards embracing categories from "Academy Player of the Year" to "Player of the Year".
It was then the turn of the St. Helen's Balconiers to make awards which were presented by John Williams (Chairman of the St. Helen's Balconiers) & Alan Jones M.B.E. (President of the St. Helen's Balconiers).
Six awards were made listed below, the highlights being the awards to each of the Glamorgan CCC Royal London One Day Cup Squad in recognition of their triumph in the competition and finally Kiran Carlson receiving the Player of the Year award notably the first Welsh born player to receive this award since Mark Wallace in 2008.
The evening concluded with a standing ovation in recognition of John Williams and his work and commitment to arranging the evening on behalf of the St. Helen's Balconiers.
2nd XI Player of the Year – Tom Cullen
Gerry Munday Memorial Award for Most Improved Uncapped Player of the Year – Tegid Phillips
Milestone Award – Kiran Carlson & Chris Cooke record fifth wicket stand of 307 against Northamptonshire in the County Championship during the fixture in July 2021.
David Evans Memorial Award – Michael Hogan
Royal London Cup Team Award – Glamorgan One Day Squad
Player of the Year – Kiran Carlson
Images from the Evening follow: