Festival Cricket at St. Helen's – May 2017
Since 1998, The Balconiers have taken total responsibility for organising The Swansea and West Wales Cricket Festival held annually at the beautifully located St. Helen's ground in Swansea.
St. Helen's Schedule 2017
The 2017 annual Swansea and West Wales Cricket Festival was a split Festival at St. Helen's this year. There was a Royal London One Day Cup match against Kent Spitfires on Sunday 14th May followed by a Specsavers County Championship game against Durham beginning 12 days later on Friday 26th May – for four days.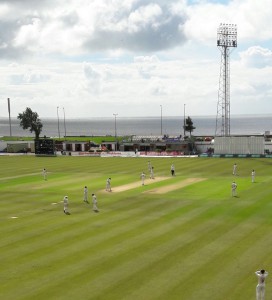 The Festival at St. Helen's was one of two held each year in Wales, the other being at Colwyn Bay in (against Sussex in August). These matches on outgrounds form an important part of a national schedule of cricket festivals, including Arundel, Cheltenham,  Horsham, Scarborough, Tunbridge Wells and Uxbridge.
It is important to continue this tradition of playing some first-class cricket away from the main County bases, thus widening the audiences and showcasing the great game in different surroundings.
For more information, please visit our Membership page.