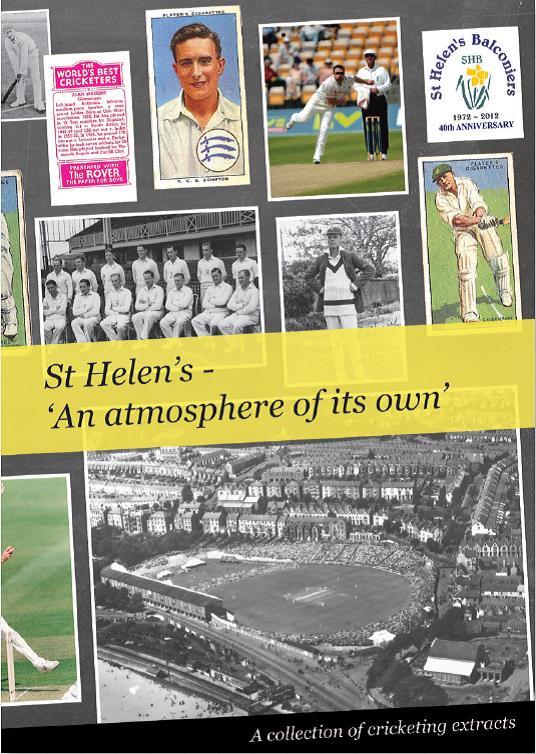 St. Helen's – 'An atmosphere of its own' was published in 2012 as part of The Balconiers' 40th anniversary to commemorate the Glamorgan cricketing ground.
It is a nostalgic collection of St. Helen's memories from both visiting and Glamorgan players ranges across the years from W.G. Grace's appearance in 1876 to Robert Croft's 1,000th wicket in 2010.
There are over fifty extracts by a variety of authors in this beautifully produced 72 page A4 book compiled by Swansea-born Glamorgan member Richard Bentley.
The book is available for a donation of £5, or £7 including postage, and can be ordered through John Williams, Chairman of the Balconiers. Please see the Contact Us page or email  john.balconiers@hotmail.com.
From Andrew Hignell's review of St. Helen's – An Atmosphere of its Own as printed in The Journal of the Cricket Society:
Everyone has a favourite ground … The fondness that so many people have for the St. Helen's ground resonates from each and every one of the 72 pages of this handsomely produced anthology. The well-chosen extracts from a number of famous writers are supplemented by some excellent historic images with the content ranging from W.G.'s appearance at the ground in 1876 to Robert Croft's 1,000th first-class wicket for his beloved Glamorgan.
All in all, this nostalgic booklet forms a fitting tribute to the St. Helen's Balconiers – the loyal band of supporters who energetically organise the annual festival at the ground overlooking Swansea Bay, and who celebrated their 40th anniversary last summer [2012]. This is the Swansea-born author's first publication with a cricket theme and he should be warmly congratulated for his painstaking and thorough efforts in producing such a delightful and readable publication which more experienced authors would struggle to surpass.
Other publications …
There are other books about St. Helen's and links to cricket matches at the ground which you might be interested to read. Some of these are:
St. Helen's Stories – Alun Wyn Bevan, Gomer Press, 2007
As the author himself notes, "some grounds are part of sporting folklore … and one such ground is St. Helen's". Alun Wyn Bevan's book explores both the cricket and rugby heritage of the historic ground, with chapters (including superb photographs) on a range of sporting heroes and memorable moments.
But as the publisher explains: "in this entertaining book, Alun Wyn Bevan does more than parade the stars and statistics of great games played on this ground. He unearths some of the stories behind the headlines – and they are, in turn, charming, amusing and amazing! And each helps to create a sense of what makes St. Helen's such a special place to all sports lovers."
The following paragraph in Alun's introduction to 'St. Helen's Stories' will strike a chord with many visitors to St. Helen's  –  of a certain age! It is likely to bring back many happy memories – as is the rest of the book, too…
"During my teenage years every summer followed a predictable pattern. Weather permitting, Alun Tudur, Elis Wyn, Philip Hicks and I would be found at St. Helen's in Swansea enjoying the cricket. We would meet up outside Danny (the local butcher's) at 9.30am and be aboard the red double-decker  South Wales Transport bus some ten minutes later. Once we had arrived in Swansea, the walk to the cricket ground took us past the YMCA and the old Swansea General Hospital to our theatre of dreams, namely St. Helen's."
Born to Bowl: The life and times of Don Shepherd – Douglas Miller, Fairfield Books, 2004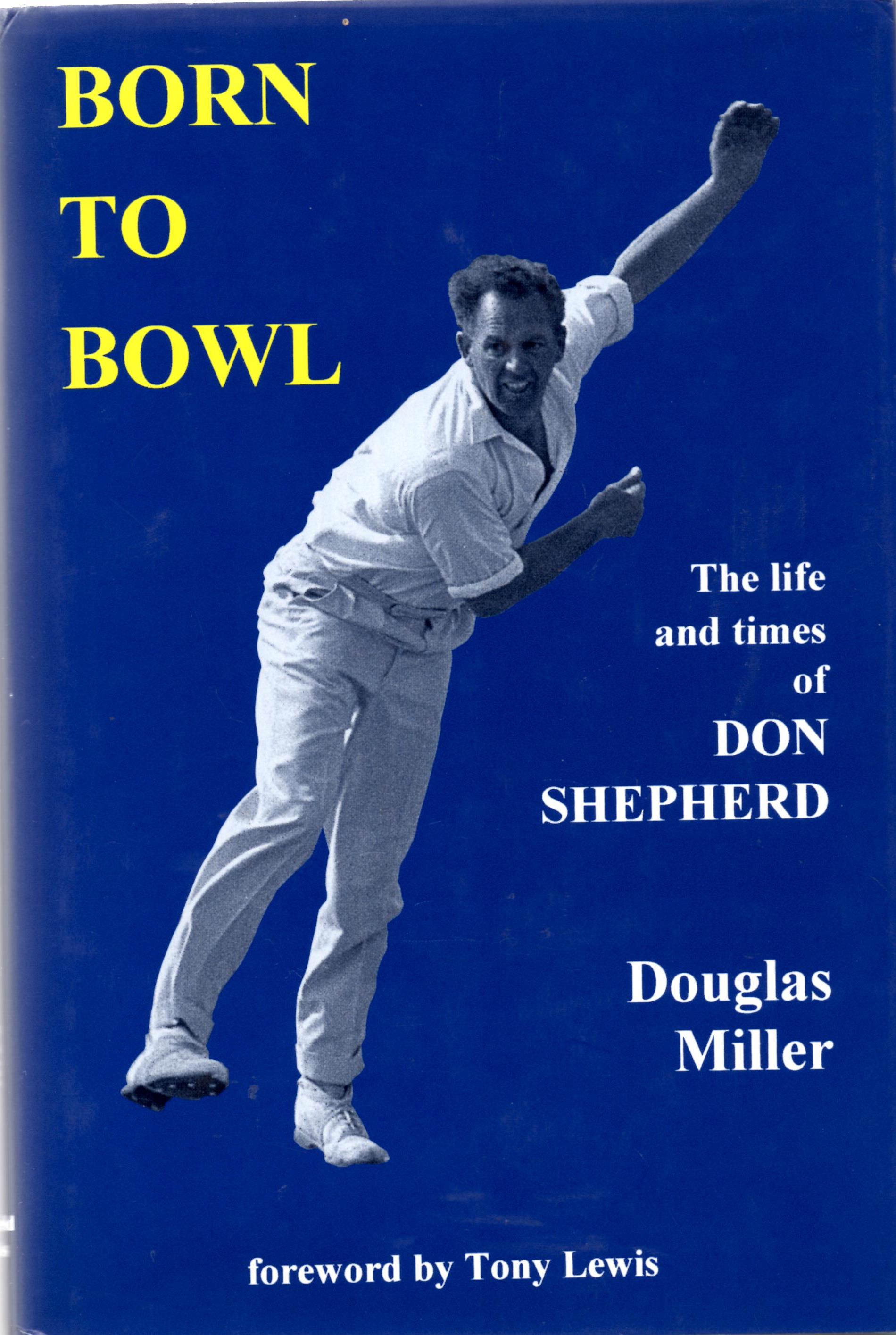 The first chapter of Douglas Miller's excellent biography of Gower-born local cricket hero Don Shepherd is, appropriately, titled 'Birth of a Legend'!
As Tony Lewis notes in his Foreword: "I can join one of his other captains, Ossie Wheatley, in describing Don as a perfect adviser both on the field of play and in the dressing room. His understanding of the game's wrinkles and the opponents' foibles was positive and helpful. To me he was essential and, at the moment Glamorgan won their second County Championship at Sophia Gardens in 1969, he was the one I sought to embrace."
Don played a total of 668 first-class matches, 647 of these for his beloved Glamorgan (and many at his 'home' ground of St. Helen's), in a career spanning the years 1950 to 1972. Astonishingly, over one third of the 22,098 overs he bowled were maidens, and his career wicket-tally was 2,218 at 21.32. As Tony Lewis observes, Don "would have been a pillar of any England side had he been chosen" – as it seems to be widely acknowledged he should have been!
As Don himself reflects: "I was born to bowl … In a way it all just happened for me, and maybe there is some young cricketer out there, someone who hasn't had the advantages, who can draw some inspiration from my story." Everyone reading 'Born to Bowl' will draw inspiration – and a great deal of enjoyment – from Don's story.
Glamorgan Grounds: The Homes of Welsh Cricket – Andrew Hignell, Tempus Publishing Ltd., 2002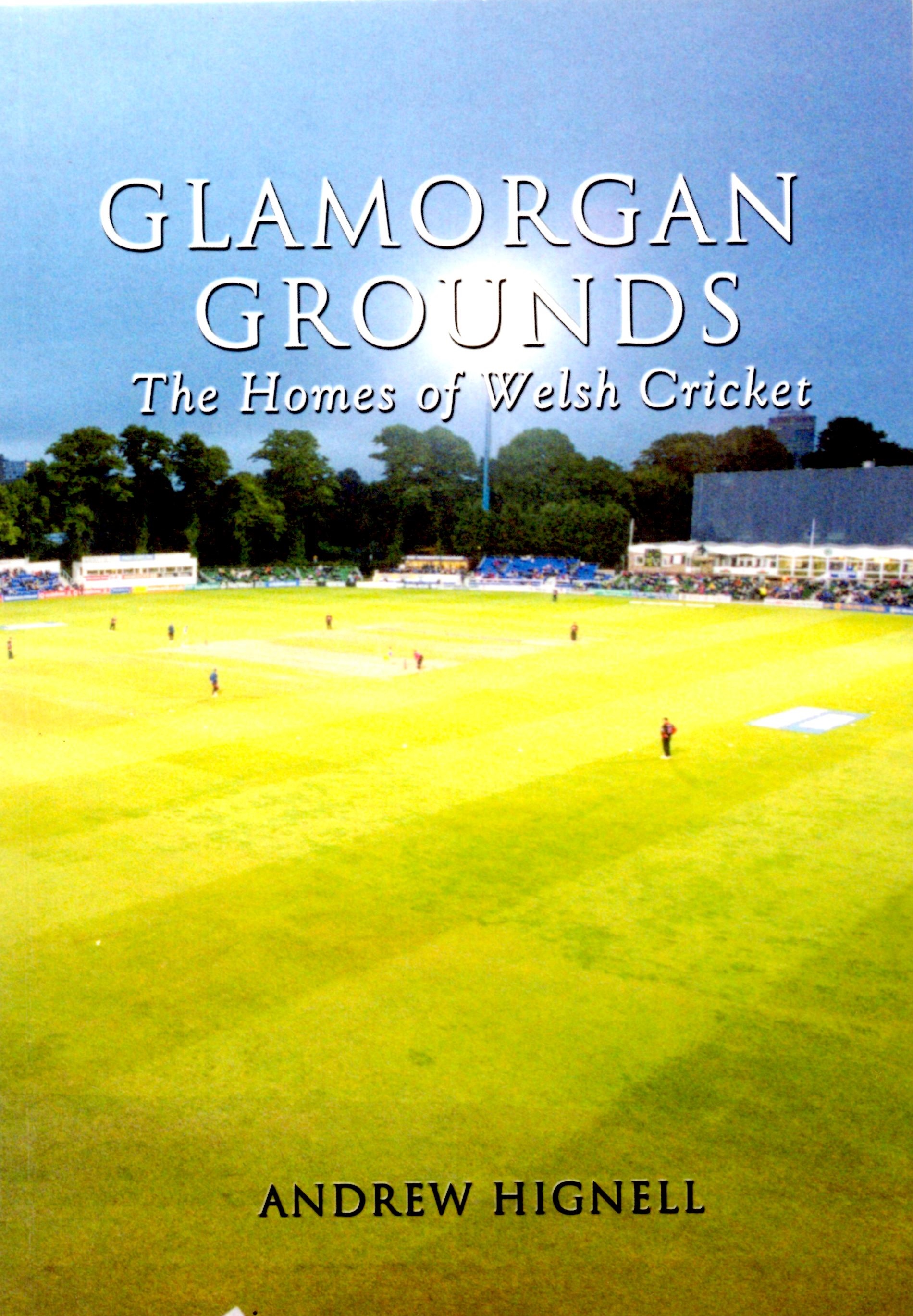 Cricket historian Dr. Andrew Hignell, Glamorgan CCC's scorer and archivist, includes a detailed and carefully researched chapter on the history and development of St. Helen's in his book covering a total of twenty grounds used by Glamorgan over the years.
One of the memorable photographs included by Andrew shows a packed St. Helen's, with the crowd spilling on to the grass round the boundary. He reminds us how: "tourist games, often staged over the Bank Holiday periods, have seen the ground packed to the rafters, and for the visiting players their games with Glamorgan have felt like unofficial Test matches against Wales, in front of what seemed like half the Welsh population!"
The Australian Cricketers in Wales – Andrew Hignell, Gomer Press, 2009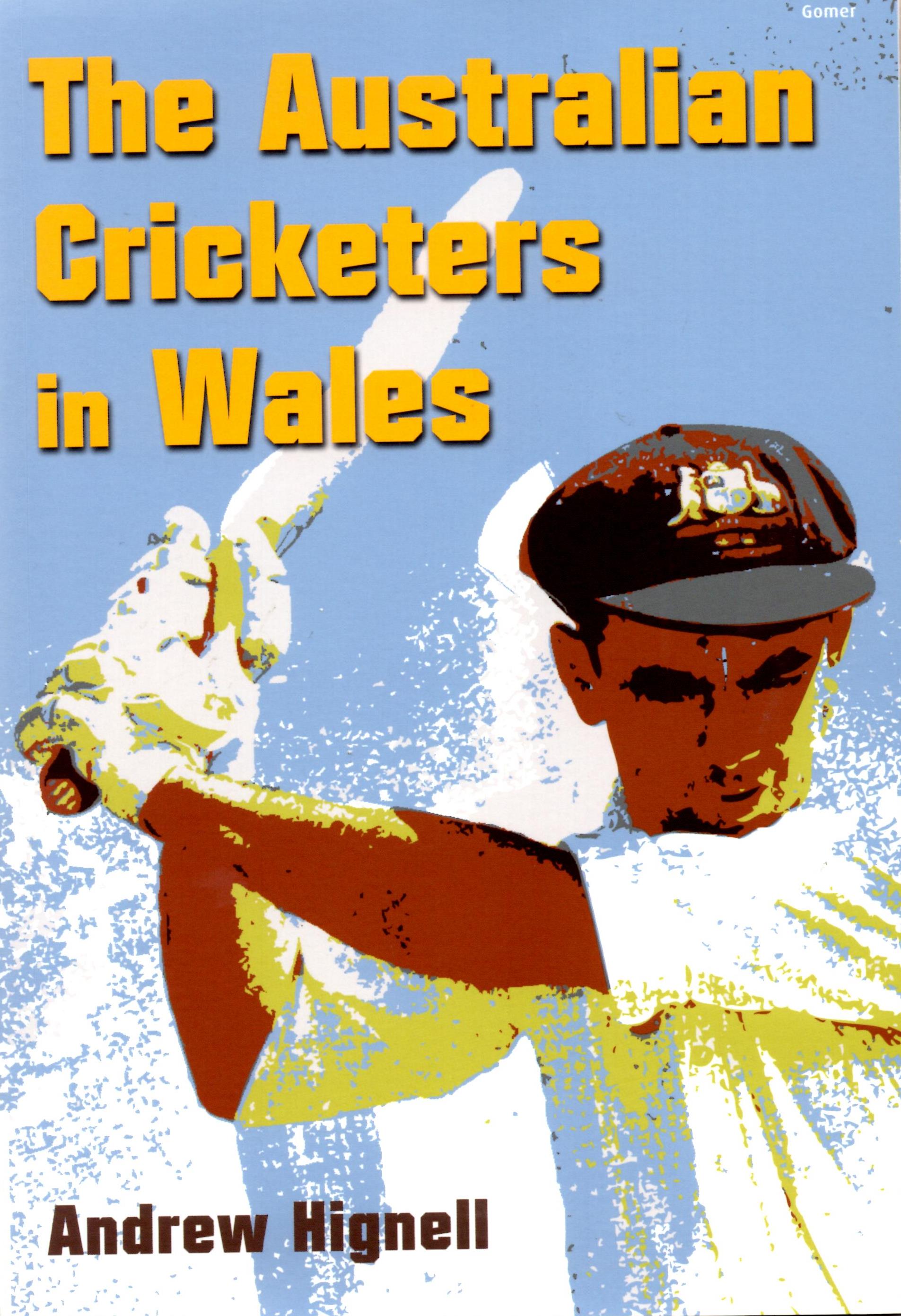 Dr. Andrew Hignell, the familiar voice of Public Address announcements at Glamorgan's home matches – and the County's official scorer and archivist – includes several chapters on historic matches at St. Helen's in his book on visits by touring Australian teams to Welsh grounds.
One chapter, titled 'The Swansea Don', relates to Don Bradman's first visit to Swansea in 1930. Bradman had come to the wicket towards the end of a rain-affected first day, but soon after breakfast on the second day "there were already long queues outside the St. Helen's ground, with thousands  of men, women and children eager to see 'the Don' continue his innings". Amazingly, there were 25,000 in the ground for the start of play, with others cramming in as Bradman moved towards a stylish half-century. The story of Bradman's second – and last – appearance at Swansea in 1938, is also detailed in the book – again with some excellent pictures.
Andrew also includes well-illustrated chapters on the famous visits of the Australian tourists to St. Helen's in 1964 and 1968 – both of which resulted in exciting and historic victories for the home team. In the first match, it was captain Ossie Wheatley who captained his inexperienced Glamorgan side to a famous victory, with spinners Don Shepherd and Jim Pressdee taking 19 of the Australian wickets between them.
Just before the 1968 game, captain Tony Lewis was taken ill and the home side was led by Don Shepherd to another historic win – prompting further celebrations at St. Helen's as another disbelieving crowd gathered on the field at the foot of the long steps to sing and listen to speeches from both captains.
Whites On Green – A history of cricket at St Helen's, Swansea – Bob Harragan & Andrew Hignell, Association of Cricket Statisticians and Historians, 2018.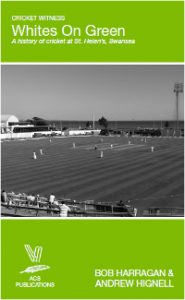 St Helens Balconiers A4 2 sided letter 'Whites on the Green' 
It's the only county cricket ground in the United Kingdom where you can both see the se and feel the breeze coming off the adjoining estuary – the St. Helen's ground in Swansea where some memorable days in cricket history thrilled the crowds shoe-horned into the tiered enclosures that lines the boundaries at one of county cricket's most idiosyncratic venues.
It was at the Swansea ground where Glamorgan secured a dramatic two-day victory over the 1951 South Africans; where the guile and spin of Johnnie Clay confounded and becalmed Australian batting legend Don Bradman; where during the late 1940s, John Arlott sat in the BBC radio commentary box, alongside Swansea's favourite son, the famed poet Dylan Thomas; where in 1976 West Indian legend Clive Lloyd struck the world's fastest double-hundred; where Matthew Maynard struck an astonishing hundred on first-class debut in 1985; where Glamorgan defeated the Australians on successive tours in 1964 and 1968, and where – during the latter season – Garry Sobers became the first man in cricket history to hit six sixes in an over.
Not Only But Also- My Life in Cricket- Malcolm Nash with Richard Bentley , St. David's Press, 2018.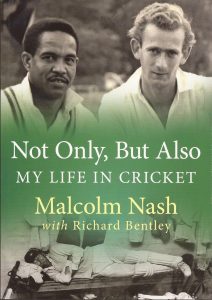 Malcolm Nash achieved sporting immortality as the bowler hit for a world-record six sixes by the legendary batsman Garry Sobers at Swansea in 1968 but, as Malcolm himself notes, although this single over made his name well-known, it should not define his long and distinguished cricketing career.
A highly regarded bowler, Malcolm played 600 matches for Glamorgan between 1966 and 1983, took over 1,300 wickets, had an England trial and was unlucky not to receive international recognition.
In Not Only, But Also, his sporting memoir published fifty years after that historic day in Swansea, Malcolm not only looks back at that over at St. Helen's but also explores and celebrates his wider achievements with bat and ball, painting an intriguing and nostalgic picture of county cricket, and the life of a county cricketer, in the 1960s and 1970s.
Described by his friend John Arlott as 'a highly skilful manipulator of medium-pace seam bowling', Malcolm's story is of a cricketing life full of excitement and incident. It is a career remembered not only for that single over bowled to the best cricketer in the world, but also by much, much more.