Buffet Events
2019 – No event is planned in connection with the Festival however an initiative yet to be confirmed  is to celebrate the 50th Anniversary of winning the County Championship in 1969. The provisional date for this lunch is Friday, 8th November at the Towers Hotel
2018 A buffet lunch was held at the Towers Hotel on Friday, 9th November to celebrate Alan Jones 80th Birthday. Alun Wyn Bevan took on the role of MC, David Morgan OBE and Graham Burgess gave warm tributes. Paul Sussex produced a CD portraying Alan's cricketing achievements over almost three decades.
2018 An evening event took place Friday, 22nd June in the St. Helen's Lounge, St. Helen's Clubhouse. The event recalled the 1968 World record of Six Sixes in an over by Sir Garfield Sobers with Malcolm Nash and Dr Andrew Hignell looking back on the momentous occasion. There was also time to reflect on the famous victory by Glamorgan over the 1968 Australian Touring Side.
2017 An evening event took place Friday, 26th May in the St. Helen's Lounge, St. Helen's Clubhouse. Hosted by Dr Andrew Hignell (Glamorgan archivist) presented on the 40th Anniversary of the Gillette Cup visit of Glamorgan to Lord's. Many of the squad from the time were present and there was film from both the semi-final victory and the subsequent visit to Lord's for the final.
2016 An evening event took place on Friday, 5th August in the St. Helen's Clubhouse.  A celebration of our President, Don Shepherd. In particular Dr. Andrew Hignell  looked back 50 years and focussing on Don's decision to change his bowling style – with devastating and record-breaking results!
2015 An evening event took place on Friday, 7th August in the St. Helen's Clubhouse. Hosted by Cricket Correspondent Edward Bevan. The theme was "Majid Magical Years at Glamorgan" including a film presentation by Dr Andrew Hignell.
2014 An evening event took place on Friday, 15th August in the St. Helen's Clubhouse. Hosted by Cricket Correspondent Edward Bevan, who introduced many of the 1964 winning Glamorgan side v the Australians. There was also film provided by Dr Andrew Hignell depicting this famous victory, which was the first time the Australian Tourists had been defeated by a county side since 1912. See fuller report below.
2013 Mark Wallace Benefit Function Buffet included a Cricket Forum was held on Friday, 23rd August.
2014 Festival Celebratory Evening with Ossie Wheatley
The 50th Anniversary of Glamorgan's famous victory over the Australian Tourists was marked by a special evening event at St. Helen's during the 2014 Cricket Festival. Former captain Ossie Wheatley was one of a number of special guests as over 120 people attended to celebrate the occasion.
Glamorgan's popular ex-captain was joined by six other members of the team that played in this historic St.Helen's match – Don Shepherd, Alan Jones, Eifion Jones, Alan Rees, Billy Slade and Peter Walker. All the players took part in a very interesting question and answer session led by the BBC's Edward Bevan.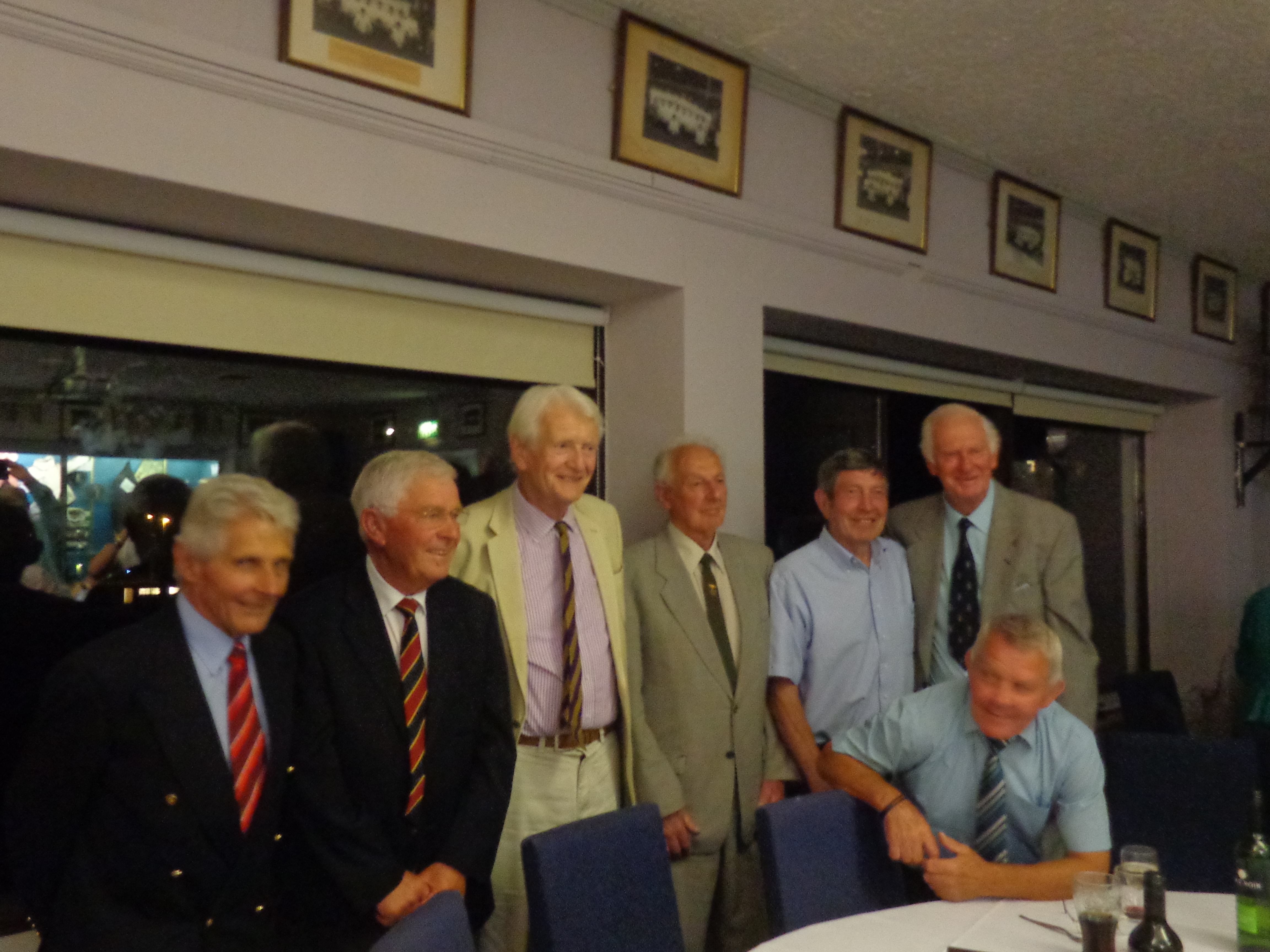 There was also a presentation by Dr. Andrew Hignell about the match with archive footage of the game itself showing some of the impressive bowling and spectacular fielding which clinched the game for Glamorgan.
***
Ossie Wheatley led the county between 1961 and 1966, and on joining took the captaincy from Wilf Wooller. With his right-arm fast-medium bowling he formed an impressive attack with Jeff Jones. In his first two seasons with Glamorgan he took over 100 wickets.
However it was with a less experienced side, (a number of which attended the celebratory evening) having rested some players, and during a not particularly special county season that Wheatley's team achieved this magnificent win. Thoughtful captaincy and the side's desire to test out the Tourists led to a very proud moment for Wheatley as Glamorgan captain when his side became victorious over the Australian Tourists in their game at St. Helen's, Swansea.
Crowds of around 20,000 were at St. Helen's that day to watch the momentous occasion.
The full scorecard of that match can be seen here and an article on Ossie Wheatley and that momentous game can be found on the St. Helen's Articles page.